Beard and Eyebrow Hair Transplantation
The newest hair transplantation methods offer a significant amount of flexibility when it comes to re-planting the extracted donor grafts. One of the key applications of Follicular Unit Extraction method is facial hair transplantation. Thanks to precision handwork, extracted hair follicles can be replanted on a patient's face completely matching the natural direction of hair growth. A facial hair transplantation carried out at HTE Clinic is therefore completely untraceable.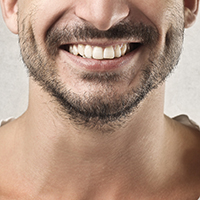 How Do Beard and Eyebrow Transplants Work?
Facial hair transplantation involves exactly the same principles as a typical FUE procedure. Donor grafts for the transplant are harvested from the back of the head, an area referred to as the donor zone. These grafts are carefully extracted, one by one, and preserved in a platelet rich solution to maximise survivability. One the extraction process is complete, our surgical team begins to plant the donor grafts into the recipient areas on the face.
Grafts are carefully re-planted using a revolutionary tool called the Choi Implanter Pen, which eliminates the requirement of creating donor channels. Previously, a surgeon would first need to create tiny incisions on the face using a punch instrument and then insert hair follicles into these channels. With the Implanter Pen, hair grafts are inserted into the skin without the need for the incisions.
The HTE Clinic Advantage
Using the latest generation of instruments, we can positively impact the end result as well as the recovery period. With us, patients get a shorter recovery period, as well as visibly more natural-looking results. Without the need for additional incisions, we eliminate unnecessary trauma to the recipient area - in this case the patient's face. This has a direct impact on regrowth rates - the number of donor grafts that survive the transplant and continue to produce hair following the transplant, which is the key metric for measuring our success.
Why Precision is Important
Recreating natural hair growth is especially important when it comes to facial hair transplants. With an extensive experience in these kinds of procedures, our team can give you indistinguishable results. Besides our experience in creating beard and eyebrow outlines, HTE Clinic surgeons have and exceptional expertise in increasing beard density, thanks to their use of the Implanter Pen technology.