Hair Transplantation for Women
While hair restoration is typically viewed as a solution to male pattern baldness, it can also be a viable option for many women in a variety of situations. The principles of hair transplantation in this case are the same: grafts needs to be extracted from a donor area and implanted in the recipient sites. The procedure can increase hair density, lower the hairline and shape the patient's eyebrows. With our experienced surgeons and the latest generation of instruments, there is no need to completely trim off the patient's hair.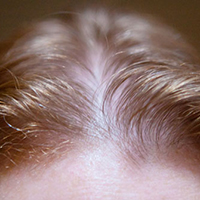 Application of Hair Transplantation for Women
Surgical hair restoration is an exceptionally effective solution for many types of hair loss in women. Most commonly, the procedure is used to increase density of hair growth on the scalp following hair loss. Harvested donor grafts can also be used to shape female hairline. In this case, the hairline can be lowered or simply shaped.
Recently, we have seen an increased interest in eyebrow transplants for women. Follicular Unit Extraction method can be very effective for a variety of facial hair transplants.
Advantages of the Newest Instruments
Our surgeons use an improved method of graft implanting - the Choi Implanter Pen. This has a number of advantages for women undergoing surgical hair restoration:
1. No Need to Trim Off All Hair
Previously, surgeons would require women to completely trim off all of the hair on the scalp. Our team only requires access to a narrow strip of skin on the donor area. Therefore, we carefully trim a narrow line of hair at the back of the patient's head, which can then be easily covered by the remaining long hair.
2. Easy Implantation Between Existing Hair
Because of the nature of the implanter pen, it is ideal for increasing density in areas, where the patient already has hair growth. Donor grafts are carefully planted between existing grafts. Our team has extensive experience in these types of transplants and we take special precautions to never plants grafts too close to each other, so as to avoid overwhelming the blood supply.
3. No Implantation Incisions and Quick Recovery
By definition, the Choi Implanter Pen does not require the surgeon to make any implantation channel incisions before re-planting the donor grafts. This means our patients experience a significantly decreased redness and fewer scabs following the transplant. As a result, the healing times are shortened and the regrowth rate is significantly increased.